CEREC Same Day Crown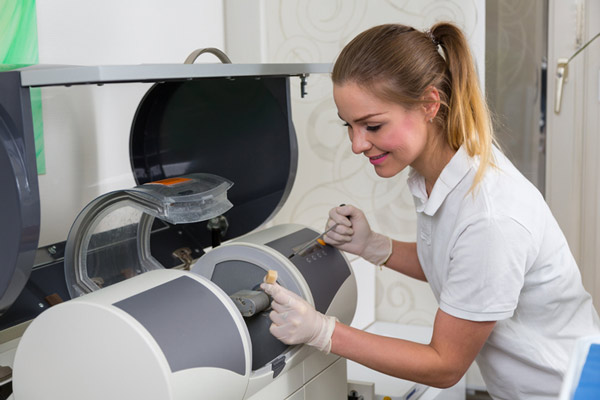 Dental restorations are important for treating damaged or decayed teeth. These treatments help us to protect teeth that have suffered serious issues, restoring their health and their normal functions. A common restoration for teeth affected by more significant damage is a crown. While effective, the fact that crowns typically take two appointments here at Appletree Cove Dental we can in some cases provide ceramic crowns in just one appointment with CEREC.


CEREC Technology

CEREC uses some of the latest, cutting edge dental technology. Instead of standard impressions, digital impressions are taken. This is done using a handheld wand that takes a digital image of your teeth and gums. The image then goes onto the computer and creates a 3D model of your mouth.

Using this 3D model, we can create an incredibly accurate dental restoration. There is much greater accuracy with this technology than there is with traditional impressions and models.

CEREC technology also involves the use of an in-house milling unit. This is the machine that creates your crown. The crown is cut out of a block of ceramic that we place into the machine after it receives the information from the crown we designed.


How Getting a CEREC Crown Works

Getting your CEREC crown begins just like getting a regular crown. We first need to prepare the damaged tooth. This means we need to remove tooth enamel. Next, we capture the digital impression and create your crown. After the crown is created, it is made right in our in-house lab. Once finished, we check its fit. If any adjustments are needed, they are made right then and there. There are no temporary restorations and no additional visits. This helps to avoid the complications associated with temporary crowns and prevents you from having to take more time out of your already busy schedule. Once your crown fits perfectly, it is cemented onto the tooth.


What Else Can CEREC Do?

CEREC is frequently used to make ceramic crowns. That is not all this technology can be used to do. It can also be used to create other restorations such as bridges, crowns for dental implants, inlays, onlays, and more. It is important to know that CEREC can only be used to make ceramic crowns in a single appointment. If you are getting a traditional metal crown, you will still need to have two appointments. With CEREC, you can receive a perfectly natural-looking dental crown in only one appointment.


Schedule Your Consultation Today!

Call Appletree Cove Dental at 360-297-3392 today to learn more about CEREC crowns.